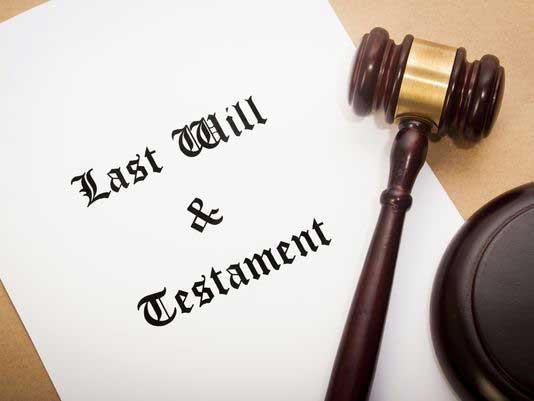 Do I need a will?
Yes. If you are married or are a parent or want to be sure a specific item of yours goes to a certain person, or if you have property, such as a house or car, that is titled in your name, you should have a will.
What does a will do?
A will allows a person to dispose of his or her property the way he or she wants. Having a will makes it easier for those you leave behind to know what you wanted.
Are there any requirements to making a will?
Yes. A person of sound mind has the right and power to make a will if, at the time the will is made, the person (1) is at least 18 years of age; (2) is or has been married; or (3) is a member of the United States armed forces. an auxiliary thereof, or the U. S. Maritime Services. A valid typewritten will must (1) clearly express the testator's intent regarding distribution of his estate; (2) be signed by the testator in person or by someone at his direction and in his presence; (3) be attested by at least two credible witnesses who are at least 14 years old; and (4) be signed by the witnesses in the testator's presence. A self-proving affidavit should be attached to the will and contain the statutory language and be signed by the testator and the witnesses in the presence of each other and in the presence of a notary public.
Is there more than one kind of a will?
Yes. In addition to a formal typewritten will, the Texas Estates Code also allows a handwritten or holographic will, but it must be completely in the handwriting of the testator and signed by him. It does not need to be witnessed. It cannot contain any typewritten words. Most handwritten wills do not contain the appropriate language to dispose of property and problems may arise as to what the testator actually intended. In my opinion, most store-bought or online wills are incomplete and create problems when it comes time to probate the will. Therefore, it is best to hire an attorney to prepare a formal will.
Can a will be revised?
Yes. A revision to a will is a codicil. A will should be updated when there are changes in the testator's life, such as when children or grandchildren are added to the family, or when there is a change in marital status (getting married or divorced). If a testator signs a will before he gets married, the spouse will not receive anything unless the will is changed to add the spouse as a beneficiary. If the testator gets divorced after doing a will, gifts to his ex-spouse in the will or her appointment as executrix or trustee are void. Do not write on the original will to make a change because doing so may invalidate the original will.
What happens if a die without a will?
If you die without having a will, the intestacy laws of the State of Texas will determine who gets your estate. That means your estate may go to someone you didn't want to get anything. How your estate is divided depends on whether you were married at the time of your death, whether you had children, and whether your property is community property or separate property and whether it is real property (real estate) or personal property.